Today, July 24, 2018, is the 121st anniversary of the birth of Amelia Earhart.
You may not know that she lived and flew in the Boston area for a time. She, with her mother and sister, moved to 76 Brooks Street, West Medford, MA in 1924. It is a private residence and not open to the public but there is a marker commemorating this fact.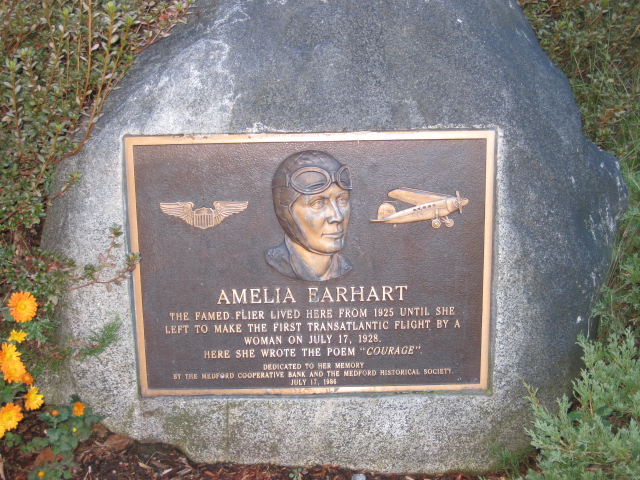 There is a flood control dam across the nearby Mystic River named in her honor. It stretches from Somerville to Everett. While there is no public access, let's just say I have accessed it privately. I'm a big fan, you see.
Amelia found work in Boston, first as a teacher and then as a social worker in a settlement house. All the while, she continued to fly. During my more than a quarter of a century at UMass Boston, I often thought of her while looking across the bay to what is now Squantum Point Park, Quincy. This is the former Squantum Point Navel Air Station. When Amelia lived here it was Dennison Airport and, not only did she fly from there, she was one of the five original directors, and made the first flight from the new airport. Yes, there's a marker there too.
During my trips to Newfoundland I've made it a point to visit places that she flew from there. On June 17, 1928 she was a part of a crew flying out of Trepassey Harbour. When they touched down 20 hours and 40 minutes later in South Wales, she became the first woman to cross the Atlantic in an airplane. Sadly, most of the flight had to be conducted under instruments and, at the time, she had no training. As she put it in an interview "Stultz did all the flying—had to. I was just baggage, like a sack of potatoes." She also added "…..maybe someday I'll try it alone." This is Amelia at Trepassey.
On May 20, 1932 she was at the controls, flying out of Harbour Grace, Though Paris had been the original destination, when she landed in Northern Ireland, she became not only the first woman to fly solo across the Atlantic, but the second person overall. Her flight came just 5 years after Lindberg's. Here's rare, silent newsreel footage of Earhart at Harbour Grace.
Let's get on to the music. Sadly, many of the songs about Amelia deal with her sad fate. Probably not surprising as we humans are generally a maudlin bunch.
Red River Dave McErney was a real triple threat. He was an amazing yodeler and became know as Red River Dave for his epic yodel rendition of "Red River Valley." He was also a great singer of Western and Cowboy songs, with a vast collection of songs to draw on. I grew up, in the 1950s, with a 10 inch LP of his "Popular Songs of the Prairie." And, long before Ochs, Paxton and Dylan made it a career option, he was the king of topical songwriters. He wrote songs about Marilyn Monroe, The Bay of Pigs, Patty Hearst, Apollo 11, and even Charlie Manson. The album pictured below is highly recommended. His is probably the best known song about Earhart as it's been covered by everyone from The Country Gentlemen to Session Americana and The Greenbrier Boys to Kinky Friedman.
Plainsong recorded Red River Dave's song on their breakthrough album "In Search of Amelia Earhart." They followed it with an Iain Matthews composition. Since I'm going to share a couple of other Amelia songs by them, here's a version of Iain's song by Dave Burland. That, and here Burland is his usual magnificent self.
Plainsong brought the story of Earhart up to date in 1993.
In their 1999 recording, they addressed the legacy of Amelia in this song by the, then, newest member of the ensemble, Clive Gregson.
Here's one from my old friend Lennie Gallant. Sometimes called "The Bruce Springsteen of Prince Edward Island" if you've ever seen him in concert, you know he's all that and more. This was recorded live in Halifax, NS. The backing band includes his nephews, who are now in the group Ten Strings and a Goatskin.
I'm leaving the last word on Amelia to another old friend, Vance Gilbert. He is such an amazing performer that it often overshadows the fact that he is an amazing songwriter. And, oh yeah, buddy can sing and then some. Vance is also an aveation enthusiast. If you take a look at his timeline on FaceBook right now you can find video of him flying one of the scale model planes he makes.