I'll get to the actual battle, and a pair of songs about it shortly, but first, another story from Uncle Dave.
I hope, for your sake, you don't remember the name George Lincoln Rockwell. He was the founder, and self proclaimed Commander of the American Nazi Party. In 1966 he started on a speaking tour of college campuses. Some of us, who hung around the Tryworks Book Store and Coffeehouse, a radical stronghold there in the northern foothills of the Catskills, decided this would never do.
On the evening of the first speech, we arrived at the auditorium and arrayed ourselves around the hall. As soon as Rockwell was introduced, Steve, who had been a teacher before opening the Tryworks, stood, put a fist in the air and started yelling. "Our Russian brothers defeated you in Europe. Our comrades in the Abraham Lincoln Brigade made your blood run red in the streets of Madrid….." At that point I jumped up across the room and started reciting the Declaration of Independence at the top of my voice. I admit that I edited it to conform to my beliefs, or lack thereof. "…all men are created equal, that they are endowed by their humanity with certain unalienable rights." J.D. (who was a Jehovah's Witness, of all things) chimed in with biblical verses in which Jesus talked about caring for the poorest among us. Pam, who was a dwarf, jumped up on her chair and started screaming "Hitler, Mussolini…" and the name of every other Fascist leader and Nazi general she could think of. Dink chimed in singing old union songs. His real name was Jim but we called him Dink because he sang "Dink's Song" (you know…. if I had wings like Noah's dove…") at every opportunity. We had talked him out of that on the basis that union songs were more appropriate… and louder. Jim the Janitor, got there early, wearing his work clothes and, pretending to be part of the custodial staff, had worked his way down front. He was so far away I couldn't tell what he was saying but, damn, he was loud.
As we had suspected, the Nazis were chickenshit and never made a run at us. Instead, they demanded the police remove and arrest us. We were, after all, breaking the law, denying Rockwell his constitutionally guaranteed freedom of speech. We knew this and were ready to take the collar. As the cops clambered through the crowd to each one of us, we left with them peacefully. But as each one of us was walked out, more and more people joined the din, and Rockwell never got a word out…. at least that anyone could hear.
When we were outside, the police politely told us to leave or they would have to arrest us. We, equally politely, thanked the cops and headed off to where we had hidden our cars. We hid them just in case the Nazis suddenly grew a pair and wanted some pay back. As we were leaving one of the policemen yelled "Thank you for shutting up that asshole." We repeated this action five more times, at five more colleges. Every time the crowd took over, and the cops let us leave without being arrested. And every time save one, the cops thanked us for not letting Rockwell speak on their campus.
Less than a year later, George Lincoln Rockwell, Commander of the American Nazi Party, was murdered by one of his own followers. All I can say is, good enough for 'em.
OK kids, storytime with Uncle Dave is over…. on to the battle.
The Battle of Cable Street took place on October 4, 1936 in the Whitechapel district of London's East End. You can find a short but complete article about the battle here, but I recommend that you listen to the songs first. They do a very good job of detailing the history and, I think, will have more of an emotional impact the less you know going in.
This is by the Young 'Uns, who I first saw over a decade ago (back when they were young) at a pub sing the night before the opening of that year's Sidmouth Folk Festival. They went down a storm, as did The Teacups, who shared the evening with them. The 'Cups are another young (then) a capella group that is worth visiting here. At the time, the repertoire of both groups was totally traditional. As the years have gone by Sean Cooney has developed into an amazing songwriter and the Young 'Uns have been doing an increasing number of his songs on each succeeding album. Recently, when I asked no less than Jez Lowe who his favorite young songwriters were, Sean's was the first name he mentioned. This song is written from the point of view, and based on the words of Johnny Longstaff, from Stockton, who was 16 years of age when he took part in the Battle of Cable Street.
The Men They Couldn't Hang are simply the best Folk/Punk band you're never heard of. Can't say much more than go buy some of their music after you listen to this.
It has been thrilling, over the last few days to see the people of London turn out in such amazing numbers to protest our Commander and Thief. These are, indeed, the children, and grandchildren, and great-grandchildren of Cable Street.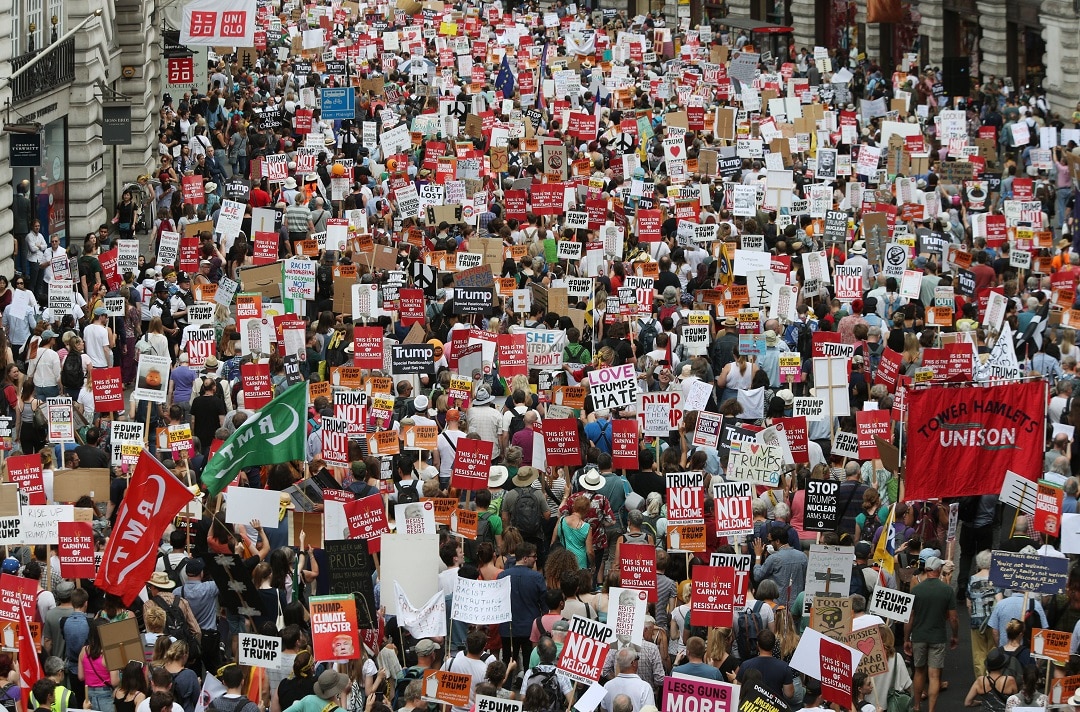 Not Again, Not Now, Not Ever