Born July 12, 1941  Barneley, West Riding of Yorkshire
If you were to ask me to put together a list of my ten favorite singers of all time, it would be tough, but I could do it. Of course, if you asked me again tomorrow, you'd get a different list. A week from next Tuesday, yet a different list. The one thing I can say is that probably 8 out of 10 lists would include the name Dave Burland.
Dave's first two recordings were for Bill Leader's Trailer label, and if you need more of an endorsement than that, no less than Nic Jones provided backup.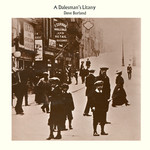 His next few recordings were done for the Black Crow label and, because of the short sightedness of Dave Bulmer, will probably never end up being reissued. Sad that. (BYW – Mr. Bulmer also owns Bill Leader's catalog hence the paucity of CD releases of those seminal recordings) One of the records for Black Crow was a set of Ewan McColl songs recorded with Tony Capstick and Dick Gaughan. (Formidable trio that!) This one has somehow escaped Bulmer's clutches and been reissued on compact disk, so while I'm posting the original cover the song is from a live performance and was not included on the original recording.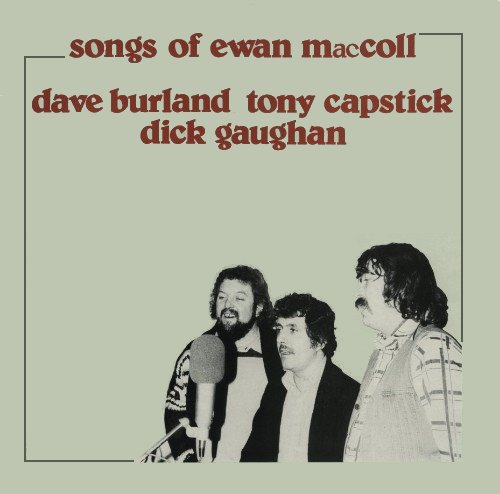 Burland was busy in 1978 because that year he also joined a stripped down version of Hedgehog Pie. They are worthy of a post unto themselves, but for now let's just say that they were the Northern answer to Fairport, had Fairport been a question. After a pair of terrific albums, by 1976, Stu Luckley had departed to work with Bob Fox, Martin Jenkins left to join Bert Jansch's latest experiment, and most of the others had drifted away as well, leaving only Jed Grimes and Mick Doonan (flute playing son of Irish piccolo legend John Doonan.) Dave joined them for one primarily traditional, acoustic album.
This lineup of the band was short lived, but one of their gigs was issued as a live album in 2010. They reunited for a brief tour in support of that recording.
In 1979 he recorded again for the Rubber label, but this time with bigger backup including not only Nic Jones but Dave Fisher, Pete Coe & Chris Parkinson as well. His next album came in 1986 for the Moonraker label, which was owned by, or at least was associated with Mike Harding. This one was very different for two reasons. It had a full band, often including electric guitar, bass and drums. Plus, it was all contemporary. including songs by everybody from Paul Siebel to Bob Geldorf and Phil Spector to Richard Thompson. In 1989 he did a truly solo record, just Dave and guitar, for the Black Crow label, which was a later incarnation of Rubber so don't expect to see that one on CD any time soon.
1992 saw Burland in the studio again, this time to record a set of Richard Thompson songs. The band was a good one with former Thompson bandmates Gregson and Collister joining folks like Simon Care, Julie Matthews and Pat Shaw. RT himself even turned up to play some guitar. My fanboy affection for Richard Thompson was a running gag of my (now over) radio career so it may surprise you that often, when I want to hear a bunch of Thompson songs in one place, this is the album I grab, instead of one of RT's own.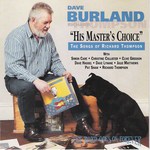 In 1996 Dave recorded a solo album of traditional songs with John Leonard producing and the versatile Roger Wilson providing backing support.
Over the years Burland has been the very definition of "plays well with others" and has provided vocals for albums by folks like Swan Arcade, Tony Rose, Nic Jones, The Albion Band, Sid Kipper, Roddy Woomble, Alistair Russell, Kate Rusby, and many others. Heck, he even sang on Richard & Linda Tompson's "First Light."
Even though I've been skipping quickly through Dave's CV, you can see that there are large gaps. That's because he basically retired from music to concentrate on his other career: he was a copper! While I love the DCI Banks series of books, and TV shows, can you imagine how popular a series featuring DCI Burland would be? Lucky for us, he's now retired from the force, and is once again concentrating on music. His latest album, to date, is with The Awkward Squad, that is a couple of guys from Shagpile, a Rock and Roll (and I mean R&R) that he's had for years. Truth time – The electric keyboard gets real old real fast, and I hate how high the precision is mixed, but oh that voice, and that gentle and relaxed singing style…. Burland hasn't lost a step….
Pops Extra (and thank you for reading this far….)
In May of 2011 Bob Dylan turned 70 and in honor of that event Burland (along with many of my friends like Jez Lowe, Steve Tilston, Chris Smither, Martin Simpson, etc.) contributed to an album of Dylan covers. Though you've heard this song a gazillion times, I thought Dave's version, and especially the arrangement, would be worthy of your time in listening.