In the Cambridge Folk Scene of the early 60s, Eric Von Schmidt was the MAN! He was the Alpha and the Omega, the trailblazer and the trendsetter, the mover and the shaker, the guy without whom….. Heck, he was so important Dylan name checked Eric on his debut album. I think this was Bob way of trying to grab on to a little of the Von Schmidt credibility. Dylan also payed sly tribute to Eric several times later on. We'll get to a couple of those.
Visit the Von Schmidt Wikipedia page for the biographical details so we can jump right into the music.
In 1961 Von Schmidt shared an album with Rolf Cahn for Folkways. Talk about instant credibility. Here was Moses Asch, the man with the most trusted tastes in the folk revival, saying you were important enough to record on his record label. This album was the first recording of Eric's version of "Wasn't That a Might Storm" but that song turns out to be so damn interesting that I'm going to do a separate post about it. (Maybe tomorrow….) So instead, let's listen to "Grizzly Bear" a song that Dylan featured on his Theme Time Radio Hour (Season 3, Episode 22.)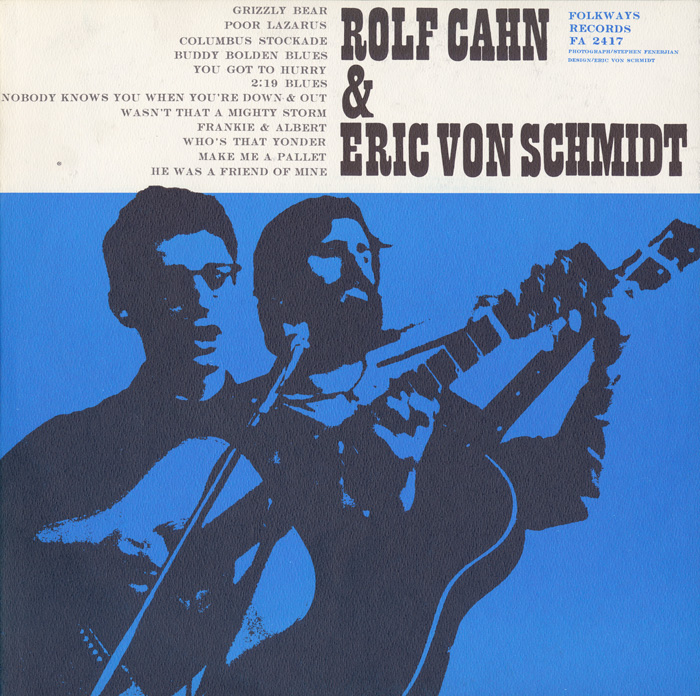 In January of 1963 Eric fetched up in London in the company of Richard (Dick) Farina. There they recorded an album over two days in the basement of Dobell's Record Shop. They were joined on the album by fellow Americans Ethan Signer and Blind Boy Grunt. Ethan had been in England with the Charles River Valley Boys and had stayed behind when Bob Siggins and Clay Jackson returned to the states. (You can read about the CRVBs in London here, And yes, Blind Boy Grunt was Bob Dylan using his favorite pseudonym.
That year Joe Boyd was, briefly, working for the Prestige record label and was running around Cambridge getting everyone with a guitar signed to contracts for the label. Eric's first for Prestige was an overpowering collection of his version of traditional songs, and blues. He's backed on this album by Fritz Richmond, Geoff Muldaur and Bob (Robert L.) Jones.
Dylan pays another tribute to Eric, and this album, on the cover of his "Bringing It All Back Home." There are several album jackets displayed, and Eric's is prominent right in front of Bob.
Pathways of Sound was a small record label, with a small office, right there in the center of Harvard Square. Some time in 1963 Eric co-produced, with label owner Joe Berk, a collection of songs from many of his friends. Folks like Ramblin' Jack Elliott, Caroline Hester (at the time married to Eric's friend Dick Farina,) Jackie Washington and Rolf Cohn. In addition to producing, Eric contributed the cover, four solos and this duet with Caroline Hester. Eric also illustrated a companion song book for Pathways of Sound called "Come For to Sing, An Illustrated Book of Folksongs."
[I'm still digitizing the LP. I promise I'll put the sound file right here]
By 1964 Joe Boyd had left Prestige and joined Elektra Records, leaving all the folks he'd signed in Cambridge to record their contractually required second albums without the promised label support. All, that is, except Geoff Muldaur, who, it turned out, hadn't been of legal age when he signed to Prestige. Being a low pressure situation (no matter how well it sold there would never be a third album for Prestige) Eric recorded his first album of originals, including "Joshua Gone Barbados" later recorded by Tom Rush (who at the time could be considered not so much an Eric clone but more of a Von Schmidt disciple.) and, oh yeah, it was also recorded by that guy Dylan. Sam Charters produced, Geoff Muldaur contributes guitar and sings a bit, Mel Lyman plays harmonica.
[Once again, sound file to come. I'm workin' on it….]
Oddly, also in 1964, Eric contributed one song to an Elektra collection called "The Blues Project" This had nothing to do with a NYC band of the same name, but was a collection of performances by young blues players from around the country. The album featured fellow Cantibridgians Geoff Muldaur, Mark Spolestra and Fritz Richmond (who played Washtub Bass on about half the tracks. From Minnesota there was Dave Ray, John Koerner and Tony Glover. And from New York there was Ian Buchanan (a student of Gary Davis, who later taught Jorma Kaukonen) and Danny Kalb (who was in band named "The Blues Project.) Eric is backed on his only contribution "Blow Whistle Blow" by Fritz (then with the Kweskin Jug Band) and John Sebastian (then with The Even Dozen Jug Band and soon to start The Lovin' Spoonful.) Eric, Fritz and John all back Geoff Muldaur on one of his contributions and on it they are joined by Bob Landy, a pseudonym so simple that even Blind Boy Grunt could see right through it.
Eric made regular appearances at the Newport Folk Festival, but the only performance of his to make it to an official Newport album came on the ill-fated and super rare 1965 album. (The reason it's super rare is the subject of a future post.) The song they chose for the album was, by this time, his signature tune, and he's backed on it by Geoff & Maria Muldaur, Fritz Richmond and Mel Lyman.
[I'll post the sound file as soon as it's ready. I want to get this on line while it's still Eric's birthday]
Eric's next recording came in 1969 and it was a bit of an odd one for the Smash record label. The backing musicians included Mitch Greenhill, Manny's son, from Boston, David Cohen, AKA David Blue and studio wizard James Burton. The songs range from a wistful tale based on Winnie the Pooh to the rocking title song. My favorite is "Catch It" later recorded by Geoff Muldaur on one of the albums he did with then wife Maria.
There are two different versions of the cover of this album. The cover about, showing him smiling…. grinning…. grimacing….. whatever, is the most widely distributed. The rareer cover is pictured below.
In 1972, Eric signed with the new Poppy Record label. Poppy was an eclectic label with great taste. Out of the gate they signed then unknowns like Townes Van Zandt and Chris Smither, as well as legends like Doc Watson and Lightin' Hopkins. I suspect Eric had something to do with them signing Smither. By this point Eric was spending part of the year in Westport, CT and part of it on his boat of the coast of Florida. It was there that Von Schmidt ran into the young Chris and suggested that he go to Cambridge. There rest, as they say, is history. While Poppy may have had great taste in artists, that is where it ended. Witness the harpsichord and orchestra arrangements on Townes' first album. And, OMG, that vocal group… kind of like a bargain bin Jordainairs. The label seems to have done little damage to Eric's recording which featured many folk who had migrated to Woodstock, NY by that time. Folks like Geoff Muldaur, Amos Garrett, Garth Hudson, Paul Butterfield, Billy Mundi, Ben (not Bill) Keith and Jim Rooney. Fellow Woodstock resident, Bob Dylan, contributed some liner notes.
In 1978 Eric recorded for the Vermont based Philo label, with a loose knit group he called the Cruel Family. This included Darleen Wilson (who would go on to produce some of the most important albums of the Cambridge Folk Scene in the 90's, old friends like Jim Rooney and Former Charles River Valley Boy, Clay Jackson. The cover is a Von Schmidt masterpiece. The album well…. not so much. It features a couple new songs, a couple of traditional songs and rerecordings of some older songs.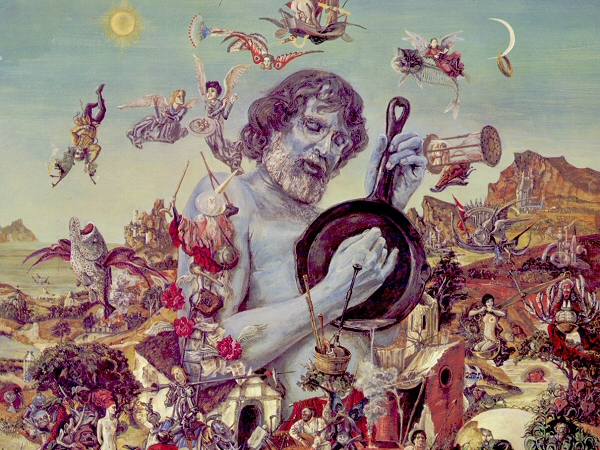 [Sorry, but I got to find my copy of this one before I can digitize it and post a sound file. It may be awhile]
1979 saw the publication of Baby, Let Me Follow You Down: The Illustrated Story of the Cambridge Folk Years that Eric co-authored with Jim Rooney. I can hardly do better that the blurb from Amazon.
Long out of print, Baby, Let Me Follow You Down is a classic in the history of American popular culture. The book tells the story of the folk music community in Cambridge, Massachusetts, from its beginnings in living rooms and Harvard Square coffeehouses in the late 1950s to the heyday of the folk music revival in the early 1960s. Hundreds of historical photographs, rescreened for this edition, and dozens of interviews combine to re-create the years when Joan Baez, Bob Dylan, and a lively band of Cambridge folksingers led a generation in the rediscovery of American folk music.

Compiled by two musicians who were active participants in the Cambridge folk scene, the volume documents a special time in United States culture when the honesty and vitality of traditional folk music were combined with the raw power of urban blues and the high energy of electric rock and roll to create a new American popular music.
A second edition was published by UMass Press in 1994. Even that is getting hard to find, and if you've been reading the Globe you know what a mess UMass is currently in, it'll probably be totally out of print soon. If you do not already own it, click here to buy it. NOW! I mean it!
Following the release of the book, in 1995, Von Schmidt recorded for the Gazelle label. This was a label put together by blues historian Sam Charters and Dave Van Ronk. It featured everything from Jazz to Cajun music and, of course, several Van Ronk albums. The backing group included Chance Brown (has anybody seen him lately?) Cello-Bop creator Gideon Freudman, Sam Charters himself and Eric's daughter Caitlin. The songs are primarily new version of older Von Schmidt songs. The title song itself is a rewrite of the song that gave it's title to the book and the one that Dylan name checked Eric on all those years ago.
I wasn't quite sure where to place this last one. It was the last Von Schmidt album issued but it was recorded on the heels of "2nd Right, 3rd Row." Quite simply after it was recorded, and before it was released, Poppy records ran into legal difficulties. (I think a bankruptcy was involved as well.) The folks behind the label reformed using the name Tomato and continued their eclectic ways, issuing new Townes Van Zandt albums and reissuing old ones, issuing new jazz, blues, cajun and zydeco albums as well as reissuing others that they may or may not have had the rights to. Some people never learn.
In 2000 Eric was diagnosed with throat cancer so there would be no new Von Schmidt albums. Luckily the Poppy/Tomato people remembered they had this little gem in the can and issued it in 2002 while Eric was still around to enjoy it. (He passed in 2007.) It was recorded in the famous Bearsville Studio (near Woodstock, NY) with old friend and co-author Jim Rooney producing. It's really an all star band with Paul Butterfield, Amos Garrett, Garth Hudson and Billy Rich. The backing vocalists were Bobby Charles, Maria Muldaur and Rick Danko.
If I may, and who's to stop me, it's my blog, a couple of personal memories of Eric.
I first met him in the early 70s at Passim (when Bob and Rayanne were still running it.) When I mentioned to him that he's gone to high school, in Westport, CT, with my late brother-in-law and sister-in-law, he quickly responded "I never touched her." To which I responded "Knowing my sister-in-law, you're right, you never touched her."
In 2000 I was lucky enough to be invited to an ASCAP tribute to Eric at Club Passim. To let you know what kind of an affair it was, I was sitting behind Chris Smither with Peter Wolf on my right and to his right, Al Kooper. And we were up back in the cheap seats. Lots of folks performed and we were treated to an impromptu reunion of the Kweskin Jug Band. Jim, Geoff, Maria, Fritz, even Bill Keith was there but, due to his arthritis wasn't playing but stood next to the stage and beamed happily. When they were finished I asked Geoff how long it had been and he said more than 20 years. I asked him if there might be further reunions. He thought a minute and said "Let's see, four songs in twenty years, nah, that's enough." Of course, they did reunite at one of Tom Rush's Symphony Hall shows just a few years later.
Dick Farnia, Blind Boy Grunt and Eric Von Schmidt